At the April 7, 2014 City Council meeting, Council members discussed Planning Commission's recommended changes to the current Recreational Vehicle (RV) regulations. Staff presented the proposed changes to City Council and the public. Please click here to view slides from the presentation.

If you have questions about the current or proposed RV regulations, please contact Ann Morgenthaler, Community Development Coordinator, at morgenthalera@cityofouray.com or 970-325-7087.
The Colorado Municipal League (CML) annually publishes a report on the state of Colorado's municipalities. As a member of CML, the City takes part in the survey and contributes information to the project. Below is a link to a short presentation with information on the final report. Additional material is also available at City Hall for the public to view. Please feel free to offer comment on this report.

Visit CML website for video feed.
Weather and Roads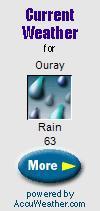 Ouray Live WebCam
CDOT Road Report